Coffee Crane National 634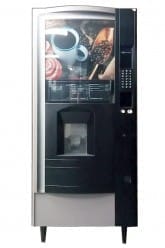 Crane National 634,  a full size coffee vending machine with all the elements inside: sugar, cream, glasses, etc. With 1 ground coffee (cup by cup with paper filters), 2 instant coffees, hot chocolate, French vanilla, it offers many possibilities of hot beverages.
Euro models (flat) and Millennium (curved) in stock.
Category: Used / Refurbished
Capacity: 1 ground coffee, 2 instant coffees, hot chocolate, French vanilla, cream, sugar and glasses
Configuration: 1 cup size
Dimension: 32'' wide x 28.5'' depth x 72'' height
Weight: 475 lbs
Electrical requirement: 15 amp circuit