Crane Voce Media – ground coffee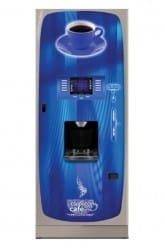 Full size coffee vending machine Crane Voce Media with ground coffee. All the ingredients are inside this full size coffee machine: cups, sugar, cream, milk, coffee, french vanilla and hot chocolate. Innovation and design are the strength of this vending coffee machine. With this Crane last model you can expect a good gourmet coffee cup.
The program has been simplified, several choices of hot beverages are available to satisfy any coffee lover. The equipment has a small footprint. It is energy efficient and finish quality is exceptional. For all those reasons, you should consider the Crane Voce Media.
Also available in coffee beans version.