Combo Office Deli Duo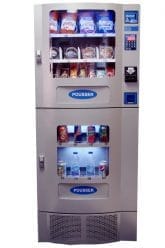 Office Deli Duo is a compact combo vending machine ideal for small locations. It fits in small room and has good capacity considering its small size. Offer up to 16 choices of snacks and 8 choices of cold beverages with this combo vending machine which is enough for the needs of many small locations. Its refrigeration system located in the front, it is not necessary to leave a gap between the wall and the vending machine and up-crease the space saving.
The Office Deli Duo combo refurbished for the snacks ans cold beverages offer with a good value for your money!
Category: Used / Refurbished
Capacity: 310 items
Configuration: 16 snacks + 8 beverages
Dimension: 30'' wide x 28,5'' depth x 70'' height
Weight: 291 lbs
Electrical requirement: 15 amp circuit