Stainless steel 3 swinging doors 80″ wide – commercial refrigerator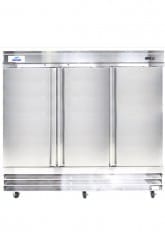 Danair stainless steel 3 swinging doors, 80″ wide, commercial refrigerator. Temperature easy to adjust with the temperature control. Excellent quality steel cabinet and very good polyurethane 2,5″ insulation. Removable bottom shelf and sliding refrigeration unit for easiest maintenance and repairs. Stay open door with recessed handle, door lock for increased security during off-hours and wheels to be easier to move.
The commercial refrigerators Danair are supported by a 1 year parts and 5 years compressor warranty.
Category: Uncategorized
Capacity: 72 feet³
Configuration: 9 shelves + the bottom
Dimension: 80'' wide x 33'' depth x 84'' height
Weight: 753 lbs
Electrical requirement: 15 amp circuit