Vendo Vue 40 Blueline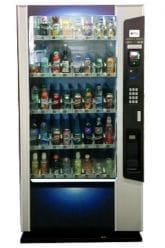 The Vendo Vue 40 Blueline vending machine is working with a robotic arm for the delivery of cold drinks. You can sell up to 40 choices of different cold drinks, which is attractant for the consumers. As they will buy in your Vendo Vue 40 Blueline, the robotic arm will be a show to look at. They will have choices, so you will satisfy more consumers and you will have good sales in return. No adjustment is  required for the bottles, you only have to fill the trays and adjust your selling price depending on the cold drinks.
The Vendo Vue 40 Blueline is one of our refurbished vending machine, so you get the insurance of having a quality equipment at a good price/quality ratio for the long term. Several checks are done:
the compressor is verified by a professional
the robotic arm is checked and re-manufactured
an update of the electronic
a complete cleanup of the equipment
new paint job if necessary
So, what are you waiting to order a refurbished Vendo Vue 40 Blueline soda machine from us?
Contact our representative now!
Category: Used / Refurbished
Capacity: 320 bottles or 360 cans
Configuration: 40 selections
Dimension: 41,5'' W x 35'' D x 72'' H
Weight: 800 lbs
Electrical requirement: 15A Circuit