Premium Combo 5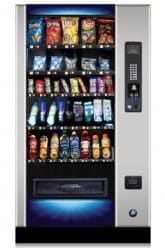 The Premium Combo 5 is a 5 wide vending machine from the Premium brand, which is a sign of quality and flexibility. It is a multi-purpose equipment with interesting functionality; LED lighting to enhance the presentation of your products, two temperature zones for snacks and beverages, the assured vend that delivers the product and reimburses the customer without any problem, easy price setting and a little stocking room located in the interior of the equipment.
Vend a large variety of products with the help of this vending machine Premium Combo 5.  This machine is multi-purpose equipment, you can offer the diversity customers are looking at, in vending machine. Dare with different products and get more sales!
The Blueline design offer a modern and elegant look which is appreciated by the consumers.
See also from the same series:
We invite you to check out our Premium Beverages 5, our Premium Snack 5 and our Premium Food 5.
Category: Uncategorized
Capacity: Standard 371 items
Configuration: Standard 36 selections
Dimension: 39'' W x 37'' W x 72'' H
Weight: 736 lbs
Electrical requirement: 15A Circuit