Premium Beverages 5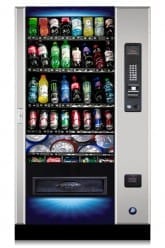 Premium Beverages 5 is a cold drinks vending machine from  Seaga. Requiring no adjustment, this automatic vending machine allows you to offer a large variety of beverages such as juices, soft drinks, energy drinks, dairy products, water, etc.
Available in black or with the Blueline design from Distomatic.
On the picture, the model Premium Beverages 5XL increases its capacity to 307 drinks, thanks to the optional XL tray which contain 115 cans, in 5 varieties.
See also from the same series:

We invite you to check out our Premium Combo 5, our Premium Snack 5, and our Premium Food 5.
Category: Uncategorized
Capacity: B5 : 240 beverages, B5 XL : 307 beverages
Configuration: B5 : 40 selections, B5 XL : 37 selections
Dimension: 39'' W x 37'' D x 72'' H
Weight: 764 lbs
Electrical requirement: 15A Circuit